Details

Category: Tungsten News
Published on

Monday, 11 September 2017 16:15
Analysis of latest tungsten market in China from Chinatungsten Online: Last weekend, tungsten market was still unquiet. After volatility for a second day on the midweek, tungsten market in the weekend showed signs of stability and smelter enterprises start to appropriate procurement.
The reason for the stability is: there are rumors on Friday that a private mining enterprise stepped up pace to make a large amount of capital enter the market to support tungsten concentrate market. It also has rumors on Saturday that two large tungsten enterprises have a "bailout" plan this week.
Tungsten market in China last week experienced the most soul-stirring moment in this year. In Monday, market participants were still enthusiastic. With the release of guidance prices on Tuesday that failed to reach the expected price, market started to appear loose. Tungsten enterprises begun to reduce their stocks Wednesday and raw materials price shocked nearly US$ 1,550 per tonne on Thursday. Price changes are not the worrying, but the retreat of market confidence.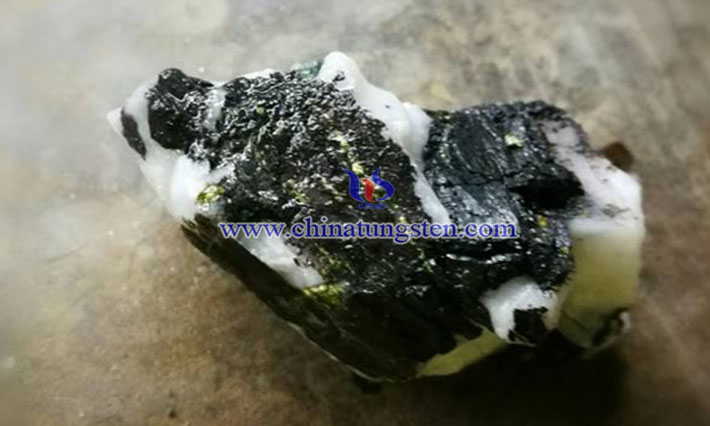 On Friday, APT price in European quoted at US$ 310-335/mut, the average price increasing US$ 30 per mut, equivalent to rise US$ 2,636 per mut. Ferrotungsten in European quoted at US$ 42-43.5/kg w. The rally in quotation for European APT is due to the pull from Chinese market and the end of the summer vacation in Europe improving demand.
It is unreasonable to concern other tungsten enterprises' sale prices, especially in the time when price is declining. Each company has different operating conditions, some enterprises have substantial profit even selling at low price, but some may be a loss selling at high price. All purchases and sales depend on their own situations. It is normal to see tungsten price rises and falls in the market.
Comprehensive analysis: Tungsten market seems to have a bright future after price rally, and then price declines, market participants lose faith in the price. It is still uncertain whether there has a bailout this week. Tungsten price is showing signs of stability and the next step is to pay attention to the actual action of the market. We suggest waiting and seeing this week.
Price of tungsten products on Sep. 6, 2017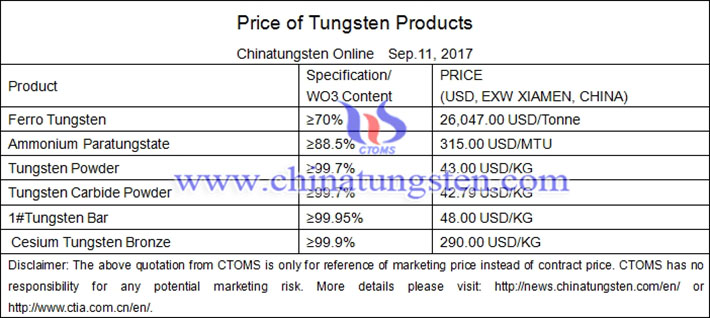 Joint our WeChat to know the latest daily tungsten price, information and market analysis.